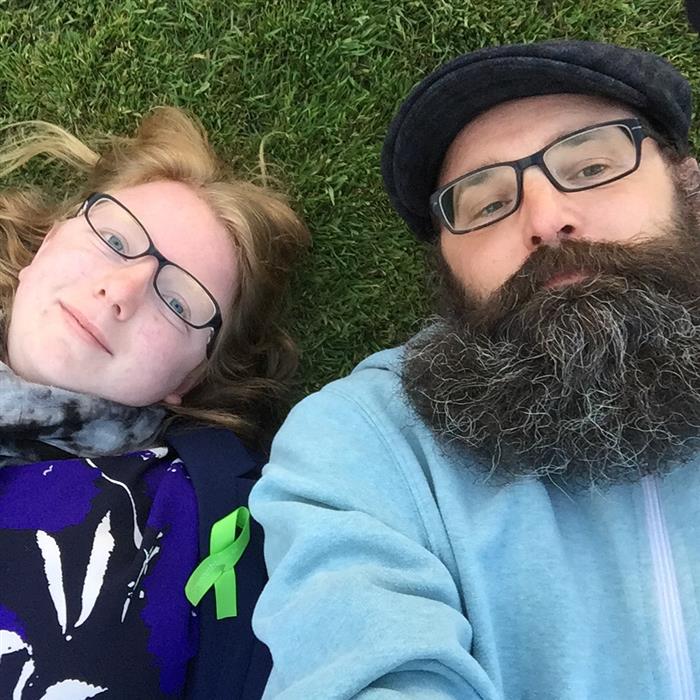 I'm extravagantly proud of my risotto. So proud I suspect there may be something wrong with it. Or me. Is my uncultured palette just easily pleased? It's by far the most complex dish I can make. It has ten, yes ten, different ingredients. And yes, I'm including water as an ingredient. Ten is bigger than nine. That's science.
I don't make it very often. Rarely more than once a month. Paula loves it. She literally licks the plate. And I use 'literally' as the gods intended it to be used. I wouldn't cook it for anyone else though. I came to food late in life, something I entirely blame my mother for. I grew up liking bland and overcooked. I was militant in my embrace of bland and overcooked. It was friends made as an adult who introduced me to joyous food. I'm not cooking for them. They've had too much of a head start.
If pushed, I'd do a roast chicken. With a modicum of care and minimal embellishment, a roast chicken is beyond reproach. And that's it. But Paula literally licks the plate clean when I give her my risotto. Paula has been depressed for some time now. I get to play the role of platitudinous bystander while the centre of my world suffers. Just waiting the requisite number of weeks to see if these meds are the correct meds.
I remember the evening I learned the basics of my dish. And I remember the first time I ate risotto. They were different evenings and the learning came before the eating. Sometime before in fact.
I acquired this dish, about fifteen years ago, from an Australian lady. I can't remember her name but I remember the evening she cooked that risotto, as if it were yesterday. And no, it wasn't like that at all. We were colleagues and we were in work. We were Care Workers dealing with a family in a very stressful environment and she decided that a risotto was exactly what that evening needed. I'd never even heard of risotto. That it was essentially rice, boiled a lot, did not inspire me. But it was a stressful evening and she'd decided risotto was what was needed. I was directed to cut and slice and crush and stir. Always stir. Never stop stirring. It's a delicate business this risotto, an overlong pause and it will surely burn.
She didn't speak like that. But I like to pretend she did. I didn't taste the risotto I'd helped to make. It was rice after all and why would one voluntarily eat rice? I was not a curious person back then. But I do remember feeling good making it. That risotto didn't have ten ingredients, even including water, but there was cutting, slicing, crushing and stirring. That evening became less stressful.
Paula has bipolar disorder. We don't say 'Paula is bipolar' because she is not her illness. Though we do say she is Coeliac because who the fuck cares about Coeliac Disease? Yes, Revenue care, so we keep the gluten-free receipts. And there's an entire industry devoted to pushing the 'gluten-free lifestyle' on the kind of buffoons who will pay extra to eat less palatable food because they believe in panaceas. And yes, I much prefer discussing Coeliac Disease because it does not scare me. Neither does it make me feel inadequate or anxious. And I don't have to stand idly by while she suffers.
The first time I ate a risotto was in an Italian restaurant in Wicklow Town. I was off cigarettes at the time, so I had serviceable taste buds. I was also determined to impress my foodie friends with my new found adventurous spirit. It was a seafood risotto. It did not impact on me the same way as the first time I tried an Indian Curry did, but it's the only eating experience I've had that comes close. Except perhaps for my lamb flavoured mash. You really can't believe lamb flavoured mash until you've tried it.
Paula is not bipolar but she has it and it is for life. And as I'm infinitely self-centred it is now my bipolar disorder and I will be dealing with it for the rest of my life. What do I do in the face of such a sneaky incurable disease? How do I stave off the anxiety, the suffocating inadequacy, the episodes, weeks long episodes, of watching the centre of my world suffer? How do I stand idly by?
I once hated onions, spring onions and garlic. I feared chillies, disdained rice and was appalled by soft cheeses. Did I mention I blame my mother for this? I won't have responsibility laid at the feet of culture. I used to delight in burnt steak. Now I cut a single onion, slice several spring onions and chillies, crush half a bulb of garlic and boil the kettle. And it makes me so happy. Fry them for a few minutes and stir chicken stock (gluten-free of course) into the water. Then there's the Arborio rice. Half a cup thrown in and fried for another precisely two minutes.
The only issue I ever have with this dish is the amount of chilli. I like lots, Paula likes a little. We compromise and I do it her way so I don't come across as the dick I truly am. Despite the bipolar thingy and the depression Paula is never not rational. She saw me fall apart due to her previous bout of depression and has had to hold my hand through this one. It's a little unfair of her to be able to deal with her crushing despair and a husband being crushed by that despair. Yet that is what she does, as I stand idly by, uttering blandishments. What else is there?
But she does love my risotto. And risotto is a fiddly bastard to make. So, I make risotto. A promise of a risotto for every day she is depressed. And because its her risotto I add mushrooms. I can't eat mushrooms. I love them, but I can't eat them. So, I add thinly sliced chestnut mushrooms at the beginning. They are the true tenth ingredient. Did I forget to mention the smoked rashers? I did. I do that sometimes and it's very irritating. I'd heard the term lardons once and hadn't a clue what they were. Someone told me they were basically little bits of bacon/ham or some such. I decided they should be in my risotto.
Take six smoked rashers (go for a brand, it's a cure for depression, anxiety and a man's inadequacy after all) and cut them into little pieces. Put them in the oven for twenty minutes or so at 180 degrees Celsius.
The alchemy begins after the rice has been fried for exactly two minutes. Add a quarter of the chicken stock and keep stirring. I always set my timer for five minutes, but the liquid always disappears before that time. Soaked up by the now increasingly tumescent rice. Then add another quarter, then the third and then the fourth. Keep the heat at a simmer and keep stirring. I've never once burned a risotto. I do not know what it looks, smells or tastes like, when burned. I may acknowledge scientific curiosity as the font of all that is worthy about our species, but I'm not burning a risotto. She licks the plate.
I don't have to cook it every day of this bout. Every second day is sufficient. Half goes in the fridge. And on the days I don't cook, I get to watch her heat it and eat it and I know I've done something. I've not stood idly by.
Once all the liquid is absorbed add the rashers. Turn off the heat and add half a portion of feta cheese, cubed. The extent to which the feta dissolves in entirely up you. Paula likes it a bit over half melted. And she licks the plate. And as I cook and as I watch her eat, my anxiety, my inadequacy, my helplessness, all feel that little bit less burdensome. And I imagine I'm helping. And she knows I'm imagining I'm helping and that's really the best we can do while we wait for the meds to kick in.