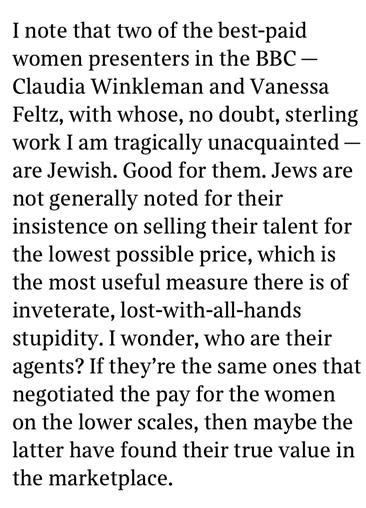 Kevin Myers has managed to become an international news story. Free Speech is being threatened. So obviously this liberal has to give his two European cents worth.
I have a complicated relationship with Kevin Myers. Before I went to college, in 1993, my house would get a few tabloids on a Sunday. That was my family's entire interaction with print media. I would look at them for the sport and give a surreptitious glance or seven at the scantily clad women. In college however, one of my lecturers insisted we read the Irish Times as part of the course work. Thus, was my introduction to the intricacies of folding a big paper.
To this day one of my favourite memories of college, is lunchtime and a group of us bunched around a copy of the IT, completing the crossword. I quickly began to enjoy reading the Irish Times. For one thing, the sports coverage was far superior to what I'd been accustomed to. It never occurred to me that a staid broadsheet would have better and more interesting things to say about sport than what were basically lads-mags touted as newspapers. I think this is when and where I learned snobbery too.
Over the next several years I began to deviate from my 'sports section first' approach to IT reading. Three or four days a week my first port of call was Kevin Myers' 'An Irishman's Diary.' I loved it. He managed to appeal to every single thought and concern I had about issues it just didn't feel safe to discuss. He took on Sinn Féin/IRA, Fianna Fáil, the brand of blind nationalism that passed for serious thought at the time, our complicated relationship with the UK in general and England in particular, the apparent anti-Semitism that animated much of the anti-Israel sentiment of that era and he introduced me to Patrick O'Brian. For Patrick O'Brian alone, I adored him.
I read him religiously. Then something happened. I'm not sure what, but something changed. I don't know if it was him or me, but I remember trying to see the point behind his 'mothers of bastards' column and not only could I not see a point, I wasn't all that motivated to find one. It just seemed so needlessly self-indulgent. Needlessly offensive. Needlessly directed at a group who did not need the extra scorn.
I'm a liberal and in my not too crystal-clear memory, I remember him as once being a liberal. And a brave one too. I don't know who changed, him or me, but even his defence of Israel began to grate. I'm 100% for its right to exist. I won't be moved on that. But somehow this defence stopped being about defending that right and more about excusing criminality. It became, for want of a better description, an identity. An identity that blinded him and his ilk to the responsibilities of friendship.
I simply stopped reading his columns. I'd see his picture in whatever newspaper he was writing for at the time and feel a mix of sadness and nostalgia. He was my first columnist. I don't know who changed, but all I began to see was bitterness, entitlement, certainty and a lack of empathy.
But I've never questioned his right to wound with words. That is not to say I'm dismayed he has lost his current job. I believe in Free Speech, not in tenured platforms. If it wasn't all so sad and pathetic I would delight in the irony of his dismissal. The irony of losing his job because of an arrogant belief in his right to delve into anti-Semitic tropes to bolster a sexist argument. I would bet my house he isn't in anyway anti-Semitic but perhaps he has written too many self-indulgent columns to find a less self-indulgent way to simply be wrong about women.
I have written several boring posts about my struggle to combine my belief in both unfettered Free Speech and Political Correctness. And I fear this one has already become another one of those posts. I'm one of those annoying centrist liberals so beloved of Left and Right, so I have to explain why I'm comfortable with Myers' sacking and why I'm also uncomfortable. And yes, I see the memes ridiculing this liberal prevarication too. They're only partly funny because they're only party true. Well, sometimes entirely true as well.
What function does Free Speech serve? I can think of three functions. First it ensures that no idea, belief, or value is free from examination, interrogation and mockery. Anyone who has lived on this island for a few decades and has given even a cursory glance at this island's history must see the necessity of that. Secondly, it ensures that no one in power is ever comfortable. Our laws against defamation have stymied this most vital function of Free Speech. I cannot remember a time in this country where the powerful have ever felt anything but comfortable. The third function is perhaps a bit more ephemeral. It is the recognition that speaking one's mind without fear of the State knocking on your door is a good in of itself.
In this conception of Free Speech there isn't any apparent stricture against 'punching down.' That is its greatest weakness. I haven't the intellect or education to imagine a form of words that ensures unfettered Free Speech but also ensures it isn't used to abuse unmarried mothers, AIDS victims, Africans, gay men, Palestinians and any other vulnerable group Myers' made a living attacking. Those strictures, if they existed, would need to be written into law, policed by the State and I'm already getting all faint at the power someone is going to have over what I may and may not say.
Yet his words and the words of those like him, do material harm. I just cannot square that circle.
Yet, in this instance, there was no squaring of any navel gazing liberal's circles. He lost his job because, capitalism. The State, good taste, empowered minorities, basic decency nor solidarity, played any part in his dismissal. He threatened his employers' bottom line, so he went. We have capitalism to thank for his being fired. We also have capitalism to thank for the fact he has made a successful living saying much worse things for several years now. He lost his job because he delved into lazy anti-Semitic stereotypes, which risked financial penalties for his employers. He did not lose his job for using lazy anti-Semitic stereotypes to make a grossly sexist argument.
He won't be unemployed for long. He's probably already writing his next column for his next employer.
I'm uncomfortable because I don't know how to create a law that protects minorities but not orthodoxies. But I am even more discomforted by the fact that Myers' has such lucrative appeal. There is a market for his kind of anti-liberal, both pseudo (and anti) intellectualist, faux-common-sense take on the ever-increasing complexity and careful use of language demanded of us by this multicultural world. This world where the certainties of the past are no longer given their due deference.
The market for his brand of illiberalism is increasingly febrile and well paid. He remains free to pander to those who feel left behind and confused. Free to communicate back to them their own prejudices and fears. I'm a Free Speech absolutist. My response to his snide hate should be to call for him to be taken on, fought to a stand-still with better ideas, more skilfully communicated, for him to be eviscerated with sharp words. But I know that's just bullshit. I'm a Free Speech absolutist and I have absolutely no idea how to stop someone making money out of attacking those more vulnerable than me.
So yes, this liberal is troubled by the dismissal of a writer from a major newspaper. He didn't find himself out of fashion. He didn't find himself suddenly irrelevant. He just used a few ill-advised words to justify his peevish hate. If he'd expressed his peevish hate with different words he'd still have his job. So yes, this liberal is troubled. Perhaps the memes are right after all.