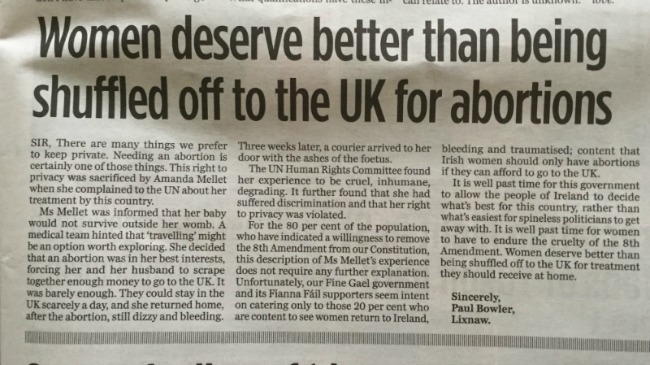 As appeared in Letters – The Kerryman – 6 July, 2016 edition
There are many things we prefer to keep private. Needing an abortion is certainly one of those things. This right to privacy was sacrificed by Amanda Mellet when she complained to the UN about her treatment by this country.
Ms Mellet was informed that her baby would not survive outside her womb. The medical team hinted that 'travelling' might be an option worth exploring. She decided that an abortion was in her best interests, forcing her and her husband to scrape together enough money to go to the UK. It was barely enough. They could stay in the UK scarcely a day, and she returned home, after the abortion, still dizzy and bleeding. Three weeks later, a courier arrived to her door with the ashes of the foetus.
The UN Human Rights Committee found her experience to be cruel, inhumane, degrading. It further found that she had suffered discrimination and that her right to privacy was violated.
For the 80% of the population, who've indicated a willingness to remove the 8th Amendment from our Constitution, this description of Ms Mellet's experience does not require any further explanation. Unfortunately, our Fine Gael government and its Fianna Fáil supporters seem intent on catering only to those 20% who are content to see women return to Ireland, bleeding and traumatised. Content that Irish women, should only have abortions, if they can afford to go to the UK.
It is well past time for this government to allow the people of Ireland to decide what's best for this country, rather than what's easiest for spineless politicians to get away with. It is well past time for women to have to endure the cruelty of the 8th Amendment. Women deserve better than being shuffled off to the UK for treatment they should receive at home.