Last night I witnessed a marvel. A group of women took on the State. I wish I could say they won. For they did not. They were never going to be allowed that. The forces arrayed against them were vast and implacable. The outcome was never in doubt, but these remarkable women showed up. For 379 nights and 380 days, they showed up. What began as a battle for their rights has become a struggle on behalf of all of us who work.
Just over a year ago, Debenhams declared bankruptcy in Ireland. In a perfectly legal sleight of hand, they continue to exist. One can find them still selling online. Don't seek them out. They fired their Irish workforce giving the minimum amount of redundancy allowed in Irish law. In the years preceding this, the workers had agreed to reduced terms and conditions to help save the company and in exchange they were promised (and by promised, I mean contracts were signed) four weeks of redundancy payments, if the worst happened. This agreement was not met. The workers began to picket. They did not stop picketing.

KPMG were appointed as liquidators of Debenhams (in Ireland that is, did I mention they still continue to trade?) In a perfectly legal way, the Debenhams workers were to be ignored. Other creditors were given precedence. The stock was to be sold and the workers given nothing. The picket prevented that stock from being moved. For over a year. Regardless of weather and Covid, that stock was not moved. The Government and TDs were lobbied. The Government wrung its hands and bleated about precedents being set. These were mere retail workers and women after all. They posed no threat. KPMG sought and was granted a High Court injunction which compelled the State to put its resources into the hands of KPMG so they could get that stock out of the stores, shipped out of the country and sold.
Last night was the culmination of that unequal struggle. The trucks arrived in Tralee and the Debenhams workers were moved aside by the Gardaí. Lifted, every one of them.
There were tears. Women who had never given cause for Garda notice had hands put upon them. A single act that broke another contract. Told an entire story. You will be screwed by your employer. Abandoned by your Government. Nailed by the courts. And lifted by the Gardaí. Your only means of redress moved and sold elsewhere. A single act to sum up a long betrayal.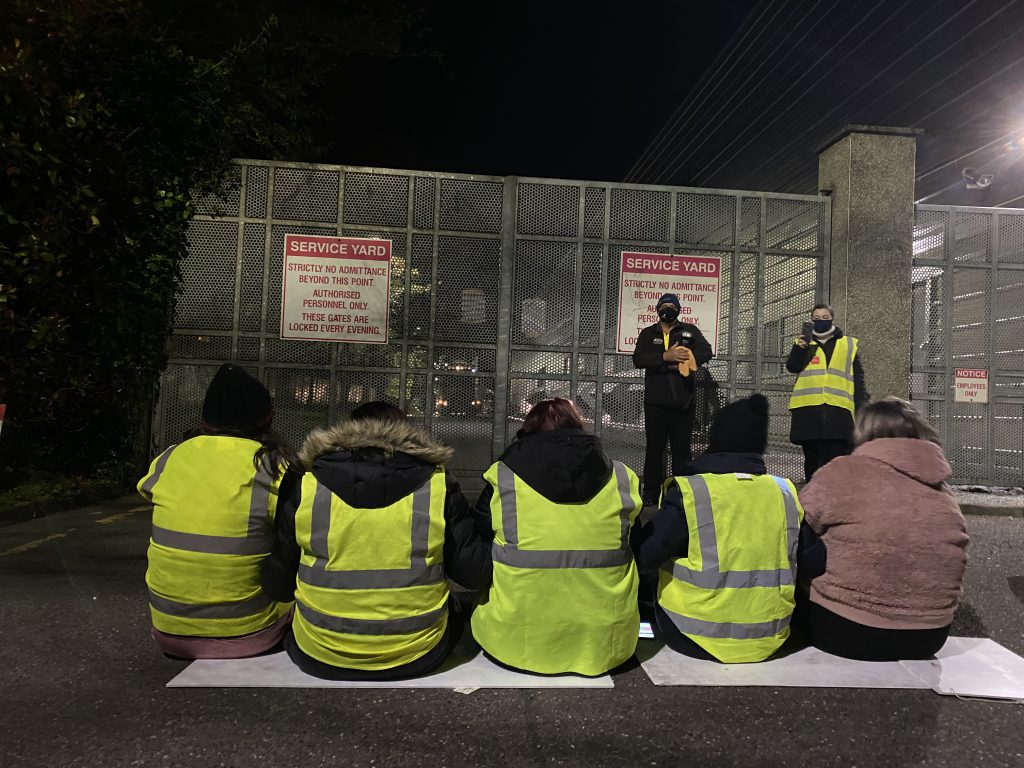 There were tears and laughter. A humour that has sustained them for so long. The only rage expressed was for the scabs who facilitated this betrayal. The Gardaí may seek the excuse of, only following orders. But people who pass a picket line for money? Yet those women last night were fighting for them as well. Precarious employment, meaningless contracts, week unions and legally protected greed impacts us all.
This could happen again. Everything done to the Debenhams workers was legal. In response to and inspired by the hundreds of women who put their lives on hold and their safety on the line, Mick Barry TD has moved the Companies (Employees' Rights in Liquidation) Bill 2021. Follow this link to find the contact details of your TDs. Call, email, write a letter. Take five minutes to honour the sacrifices made on behalf of all us by the brave women in Tralee last night and in Dublin the night before. Turn this into a victory by ensuring this never happens again.