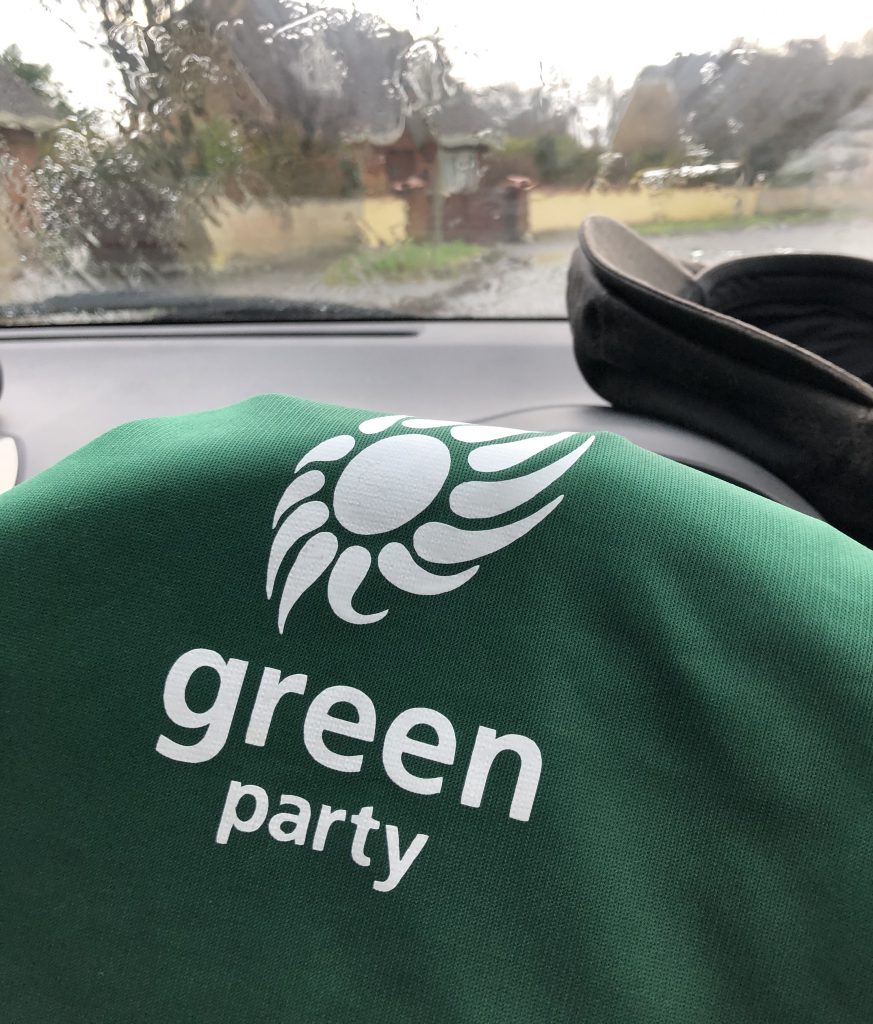 There are many who think it's the Green Party's duty to enter government with Fianna Fáil and Fine Gael. Similarly, it is thought Labour and the Social Democrats should do what they can to facilitate a FF/FG coalition. Obviously, we need a government. The columnists insist that this be a strong and stable government. Strong and stable are words that appeal to their readers. No one speaks of coherent though.
The general election left us with two blocks in our parliament. For the first time since the creation of the State, we have a group of left leaning parties that have almost the same number of seats as the right leaning parties. This is amazing. For a political nerd like me it's the realisation of a dream. Of course, for most of my life I had counted myself as being on the right of that divide, but more on that anon.
This is no small thing. This is not esoteric naval gazing. At the heart of the left-right divide is the role of the State in our individual lives, in society and in the economy. It had appeared that the right had triumphed and for the last several decades we witnessed the retreat of the State. Something I was very happy about. Then there was the Great Recession and I had to reassess my ideology. I thought everyone would be doing so but ideological nerdishness is apparently a minority sport.
The smaller State allowed private enterprise run amok. Greed and inefficiency meant the State had to pick up the pieces. Something it periodically has to do whenever it leaves capitalism off the rein. I wasn't happy coming to that realisation. Unfortunately, too many of us wear our ideology as an identity as opposed to a position constantly changing as more information becomes available. I had to accept that left to their own devices, people, will put self-interest so far in front of everything else, it'll eventually burn themselves as well as everyone else. Much like what happened in our housing bubble.
As this pandemic burns across the globe we see which countries are doing better. Generally, they have well developed public health systems, there is some level of trust between the populace and their politicians and there's an agreement that perhaps saving lives is more important than the economy.
That is not to criticise our caretaker government's handling of the crisis. I'll be honest, if Leo Varadkar retired from politics and ran for the presidency, I'd probably vote for him. Or at least give him a high preference. His dealing with the pandemic merits praise. He has proven himself to be competent enough to listen to experts. That may seem like a low bar for praise but look around the world. Listening to experts is no longer the norm. Graft and ideology are more important than mere facts.
But Varadkar and to a lesser extent, Michael Martin are of a mindset that has meant we are not necessarily in a position to save every life that needs saving. Our under-resourced health system is dealing with a generational crisis when it can't even deal with seasonal flu. Yet a lot of people are making a lot of money off of the health system. The thousands of homeless people, needlessly homeless, are being sheltered, but why can't they self-isolate like I do? In their own homes? How much money did landlords and hotels receive in the last ten years? Men, women and children stuck in Direct Provision Centres for unending years? Unable to self-isolate. Unable to social distance? Unable to cocoon? An industry created by our politicians.
It is a mindset that lauds the monetisation of misery. I wish this industrialised callousness was the result of corruption. I'd feel a lot better about the world if Fine Gael and Fianna Fáil politicians were found to be profiting from this misery. But they are not. This distortion of the social contract is ideological. They genuinely believe they are doing the right thing. They genuinely think they, and their parties, have been doing the right thing for the country. Ideology is their identity.
I joined the Green Party because I think if we don't prioritise the environment today, then things like ideology and coalitions and duty to govern will soon become moot. And to prioritise the environment we must be in power. The dramatic changes that are necessary cannot be coaxed into existence from the opposition benches. But the change required to deal with the climate emergency will make what is happening now appear like the most minor of minor blips. We don't have half a century of incrementalism left to us. We need the State to make decisions and take on responsibilities that make even a convert like me shudder. Because please remember, I may now be on the left but do I feel comfortable with the chancers we elect making vital decisions on my behalf? Fuck no. I've met several politicians in my life. The number that have impressed me I can count on one hand. And even then, I thought most of them were wrong.
The Greens could do very well in government. We'd have ministries, extra senators and access to hitherto unimaginable resources. But we would achieve so little with these two parties in charge that the whole point of being the Green Party would be lost. We want to save the planet. Yes, that sounds naive and saying it attracts scorn. But just like Varadkar, we listen to experts too. The planet does require saving. That's not a left or right issue. It's just a fact. Why most Greens are, in my experience, now on the left, is the realisation many of us have had, that unfettered capitalism is incapable of achieving our most basic goal, preventing the collapse of our civilisation due to climate change.
I don't see how Green Party participation would contribute to a coherent government if its core ideology is so at variance with its coalition partners. I can't see it. And if we are able to coalesce successfully with Fianna Fáil and Fine Gael, what does that say about us?