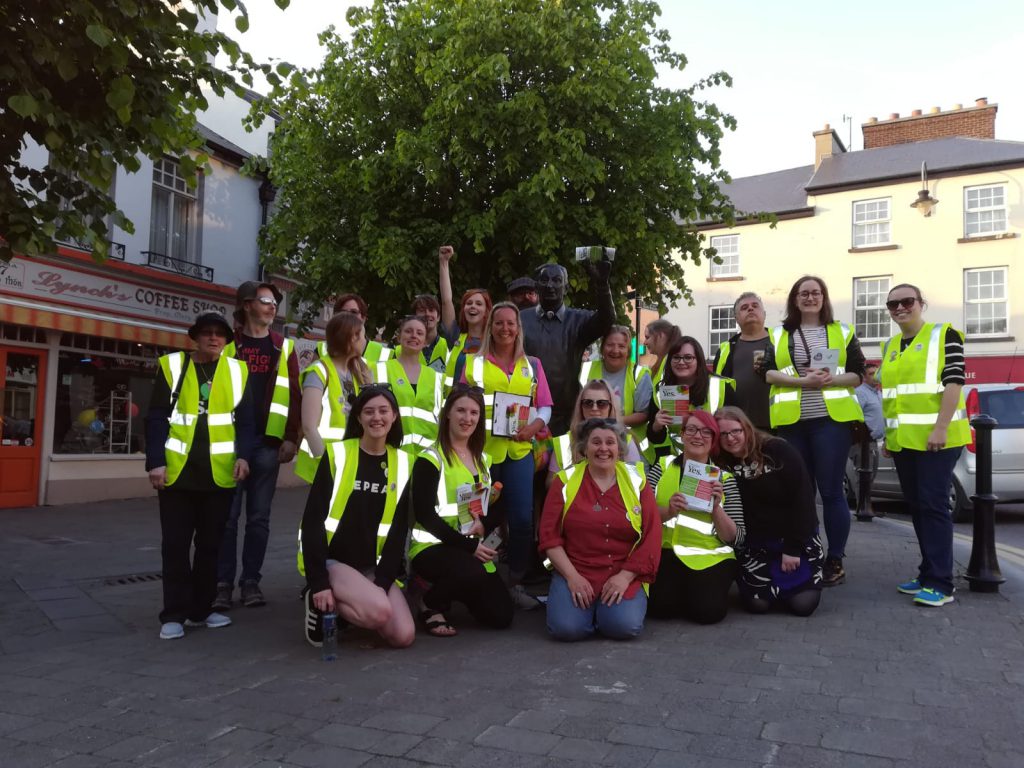 I thought this blog post would be a necessary purge of anger and frustration. Win or lose, I expected to experience the referendum campaign as something toxic. I assumed I'd need this therapeutic outlet for the scars endured. I remember feeling angry and bitter after the Marriage Equality Referendum, but I can no longer remember why. I don't even care to know why.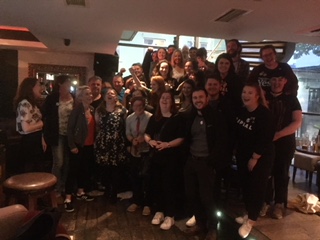 That is not to say that the campaign to repeal the Eighth Amendment was all sweetness and light. It certainly wasn't that, but as I sit here trying to write this post, I feel little else but loss. It is a selfish reaction, but I can not deny it. The experience was immersive. It was positive. It was belonging. It was an extended experience of being and feeling worthwhile. It was immersive. It was meaningful.
I was an integral member of a community that was welded together by a single and singular purpose; asking strangers to recognise a woman's equality. And we won. If I live to be a hundred, I know I will never again feel this active belonging. That is the loss.
For the duration of the campaign I held the lofty title of, Canvass Coordinator of All Kerry (I may have added the 'all' part for effect). In reality, I was responsible for Tralee and the north of the county. Someone else (Lisa, a hero) looked after the Dingle peninsula and another person (Fionnuala, a god of the old school) dealt with the south of the county.
I assumed we'd have very few canvassers, and most of them novices. I hoped we'd reach 40% yes and I expected the abuse to be constant and wearing. I was confident the country would vote yes but I wanted to ensure the 'no' majority in Kerry was not overwhelming.
The core group in Kerry was tiny, formed around Kerry for Choice, but I knew they were all in. They could be relied on, though it numbered less than ten people. I expected that we could double that group. Twenty canvassers was a realistic ambition. We wouldn't get close to knocking on even half the doors in Kerry but the towns, at least, would be made aware of our presence.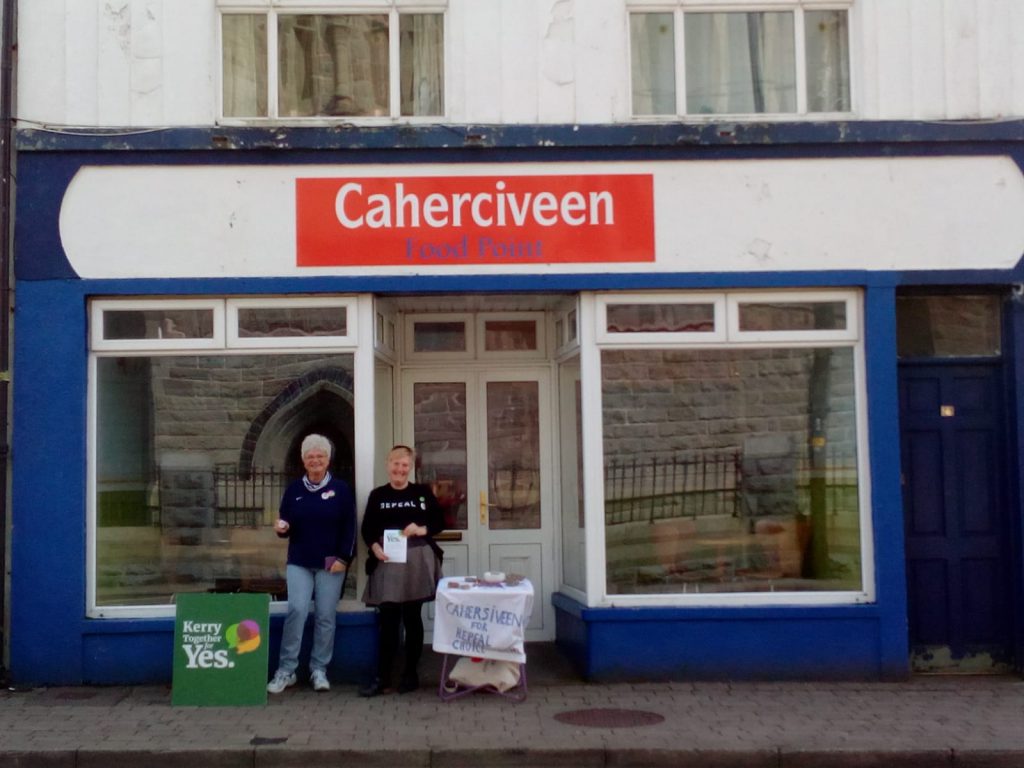 Paula, as is her want, looked after all the details of transitioning us from an ARC group to being, Kerry Together for Yes. She made sure we had access to the requisite training, supports and messaging. And we began preparing people for canvassing. The training took approximately two hours (in the beginning). And to my surprise, people began to show up. I hadn't realised that Paula was maintaining a network of interested individuals, all over Kerry, who'd been waiting for this referendum to be called. I had been labouring under the misapprehension that our Kerry for Choice meetings included everyone in the county who cared about the issue. I'm never not amazed about how wrong I am about most things.
Our training was simple. Always be polite, don't argue with a committed anti, close the gate after you and whatever your misgivings, sell the 12 weeks.
Besides canvassing there were two other planks to our campaign, the media and the information stalls. Paula and I were Kerry's spokespeople. She did interviews and press releases and I did debates. I love being on the radio, I love seeing my name in a newspaper, but to be honest, we could have entirely ignored the papers and the radio because the stalls were, unexpectedly to me, our silver bullet.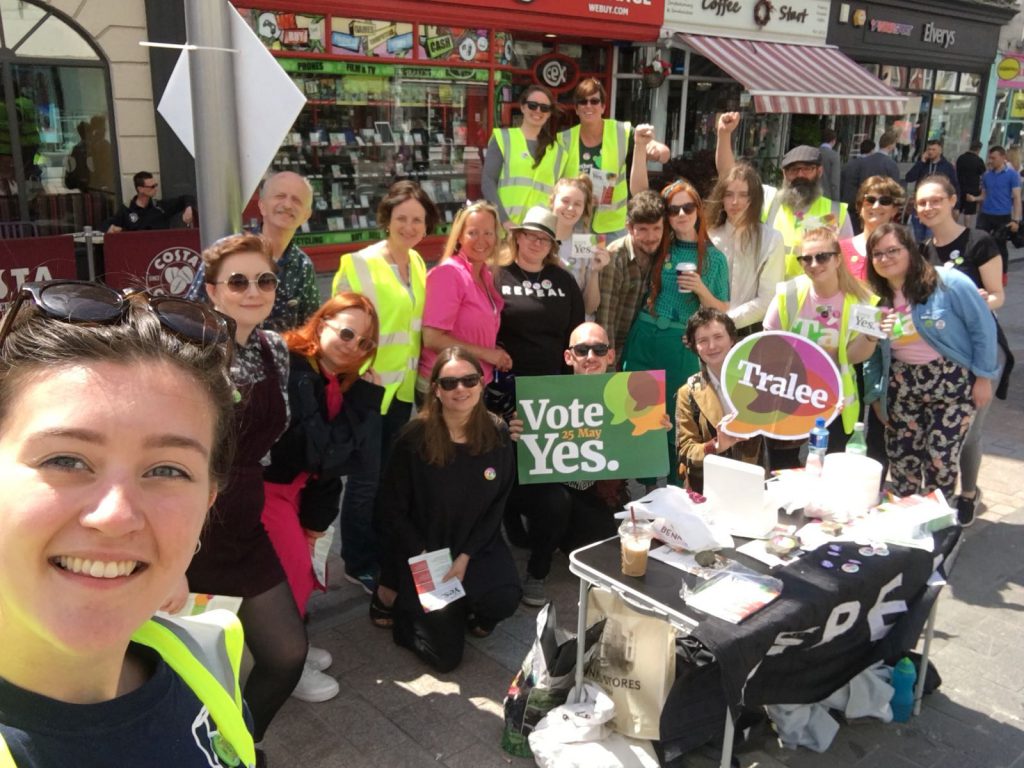 Tralee, Listowel, Cahersiveen, Killarney, Killorglin, Kenmare and Dingle, all had stalls during the campaign. More often than not, setting up within metres of some of those stalls, would be the anti side, with their posters and leaflets. Sometimes they'd set up either side of a stall and often the adults and children they had handing out leaflets would be positioned very close to us.
Killarney had the biggest issue with antis encroaching on their patch. But on a particularly bad day a local shop owner saw what was happening and chose to stand behind our banner. In Cahersiveen, a trucker stopped opposite the stall, holding up traffic on Main Street. He came over to and took their last two Yes badges to bring back to Abbeydorney. He mentioned the Kerry Babies Case. All were struck by the symbolism.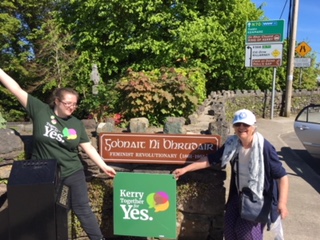 Initially we would spread out and actively offer leaflets to people, but we observed that if we just stood at our stable, chatting and taking photos of ourselves, people came to us. More and more people. Eager for badges, eager to show their support, eager even to canvass. It began to occur to me than perhaps 40% was a little lacking in ambition. And on the day the antis unfurled one of their truly disgusting posters in the centre of Tralee, I decided that 50% was more than achievable. We couldn't give away badges fast enough that day. Though we did have to spend time offering comfort to some very upset women. After that we rarely had less than ten activists at our Tralee table. Possibly not the most efficient use of our resources but we never again got hassle and the feedback from people was so restorative. And knowing that the south Kerry crew were holding stalls in places like Cahersiveen and Killorglin was more than encouraging. These were places I never dreamed would see activity and yet there they were, representing for Kerry Together for Yes in what were deemed to be anti-strongholds.
Paula also reached out (oh how she hates that phrase) to the political parties in Kerry to see what they were prepared to do to support us. It was important to establish Kerry Together for Yes' leadership so that all our limited resources could be placed behind one message and that we were correctly coordinated. The response there was a little disappointing.
I'll only mention those who helped, fuck the rest. People Before Profit placed themselves entirely at our disposal. Their activists and expertise were key to our success in Tralee. One of our most important activists and leaders is from Labour. She knows who she is. Some of us are Social Democrats. We had some support from Martin Ferris, the local Sinn Féin TD, but more importantly we had Toiréasa Ferris, a Sinn Féin councillor, canvassing with us. Taking novices under her wing, using her profile and past hard work in Tralee and Adfert to sway many undecideds and offering insights and advice at every opportunity. We even got some support from Fianna Fáil. Councillor Norma Moriarty and Senator Ned O'Sullivan publicly endorsed our campaign.
The majority of us, however, did not have political backgrounds. Most of the canvassers were young and not so young women who just knew they had to step up. They were fearful, both of the probable abuse and not knowing what they were supposed to do, but they joined up anyway. And as polling day approached more and more joined. It got to the point that canvassing training was reduced to a five-minute pep talk and an hour or so paired with an experienced canvasser. Experienced meaning, already done this for a week.
I took about a month off work so I could be out every night. I felt a responsibility to these newbies. I know how patronising that sounds. They and I were able to laugh off the abuse, but I got really angry when the old men patronised our activists. Speaking down to them. Putting hands on them to make their point. Our canvassers required neither my sense of responsibility nor my anger. Yet, I doubt I'll never not feel both proud and protective of each and every one of them. Even of Éamonn who especially needs protecting from no one.
My focus, during the campaign, narrowed to Kerry and Kerry alone. I didn't watch TV or read much of the national newspapers. When unchallenged lies are regarded as 'balance', there was little point in listening to what the media had to offer. I had to take a break from this break when I was scheduled to do a debate on Radio Kerry with a Kerry anti. As I said earlier, I love being on the radio. I am incredibly vain. Like seriously vain. But I'm not a great performer. And I am especially bad when discussing something important. My method for dealing with nerves is to not think about it and hope it all works out in the end. As you can imagine, my exam results over the years have not been great.
On this occasion however, I did my homework. My aim was not to say anything stupid and ensure the anti didn't deliver a knockout blow. I achieved competence and that was that. I was back canvassing that evening.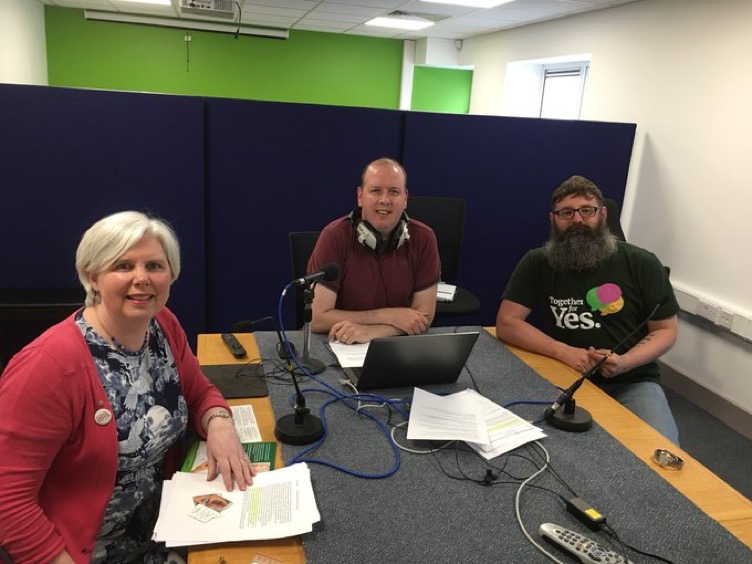 Did I expect Kerry to go yes? Near the end, I did. To such a large degree? Taking Healy-Rae strongholds as well? No. Definitely no. We never did a canvass that wasn't a majority yes. There were even several canvasses where the undecideds and noes combined were less than the yesses. Every poll had us ahead. Our stalls were a constant source of positivity. I knew we'd win, but not so overwhelmingly. Not so comprehensively. Not by so far that the antis had a meltdown on Count Day.
It was hard work, but I miss it. I have missed it every day. It was simple and it was pure. To be in a group where egos were put to one side. Political beliefs were put to one side. Where everyone was pulling in the same direction. I understood for the first time the attraction of single-issue politics. I understand its siren call.
But what I learned from speaking with so many strangers, is that I have to ignore that call. The mistrust, even hatred of women, I knew only in the abstract, was staggering. The misogyny dressed up as religion. The internalised misogyny dressed up as genuine concern. The misogyny coupled with entitlement. I miss those evenings. But I think I miss my privileged ignorance even more.
I was part of a grassroots, feminist, women-led movement that changed the world. These shrill, hair dyed, nose pierced, professors, mothers, unemployed and student women changed the world. I know this because I saw it happen. They may be written out of the official histories, but I saw it happen and I had the great good fortune of being part of it. And I miss it. I miss it. It is a selfish emotion, I know. This result will save lives. This result pushes women closer to true equality. This was a battle, not the war. And tomorrow I will argue that the legislation does not go far enough. But I will always remember this battle won. And the people I fought beside, laughed beside and got tanned beside. I will always remember those wonderful wonderful people.